This post is brought to you by
BuzzParadise
. All opinions are 100% mine.
Everything is becoming digital, from pictures to videos, important documents to money, are now just a series of zeros and ones, combined and arranged in a way to create that favourite photo of yours, or to give value to a plastic card, a thousand or a million times the worth of it's manufacture. The power of zeros and ones is really amazing.
As they say, great power comes with great responsibility, so we really need to take care of this powerful medium not to fall into the wrong hands. We need to secure our digital media properly, in a way that it can be accessed easily by the right hands and virtually impossible by the wrong hands. It also needs to be stored in a sensible and organised manner that can be accessed anytime and anywhere we need them.
Pen drives are easily accessible and can be encrypted, but they can't be anywhere, and can be easily misplaced or lost. In my experience, I have misplaced or have lost at least five of them. That's why I store the files I usually access on to a cloud storage. This makes it possible for me to access them virtually from
anywhere and anytime, from any device connected to the internet, without the hassle of carrying anything. I also find it convenient that I do not need to memorize any of my passwords to different sites.

LifeKeep is one of the online providers of secure digital contents storage, so you do not need to carry anything important, like, photos , videos, bank details, driver's license, loyalty cards, insurance policies, health records and many more. Aside from secure encryption and backup of your data, another plus factor of this storage provider is it's ability to automatically convert the stored digital files into the most recent format. This will ensure that the data can be read and translated by any programs in the future. You can also configure the data you want to share to anyone you choose. This way, you are sure that no one can see your secrets except to those you choose to.
Another distinct extra service is the panic botton function that can be activated in case of dangerous situation. In one push of a button Lifekeep can call the police or anybody you've configured as an emergency contact. It can be your life keeper in real life!
And what about when the time comes that only your memories remains? What will happen to your digital data? This depends on what you wish, should you choose to freeze it or leave your memories for the future generations to come. It is really your choice. All your digital properties can be preserved at www.I-memorial.com, a LifeKeep partner, to perpetuate your memory and will be accessible to those you choose.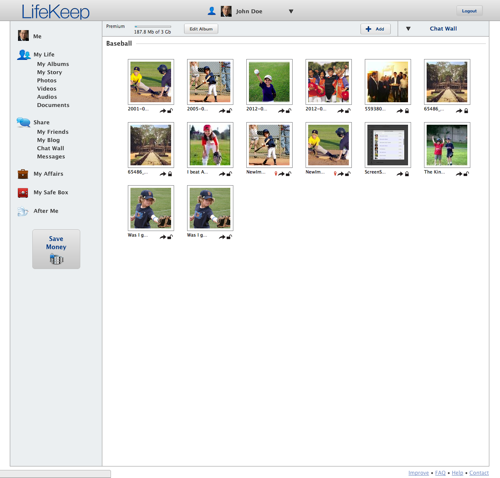 Try the difference of this data storage provider compared to other companies by signing up for a
free LifeKeep account
. This gives you 250MB of secured storage that you can access easily with any web browser, or you can download the
free LifeKeep app
application for your iphone for easy uploading and accessing of your files anywhere.