Too much has been happening into the tech world. Turnover of the old and new is going too fast. Today's tech, especially with mobile devices, become antiquated with tomorrow's new generation of devices. iPhone 4S now, iPhone 5 tomorrow.
My much loved antique phone of 8 years, the sony ericsson K750i, unfortunately, is gone. Not that it is broken or has ended it's useful life, but because I left it back in the Philippines, when I went home before Christmas. I had this feeling of losing a reliable friend, so I did thought of a replacement. Buying the same model is easy using ebay or amazon, but if I will have the same unit, the original unit or the new one will become redundant when I will be reunited with the lost one sometime middle of next year. So models and brands of different phones paraded in my mind. Then I need to choose according to what I really need.
My original phone has a duty to wake me up in the morning, connect to the car's bluetooth system when I start the engine, and make calls. Simple. A lot of basic and simple phones offer this functionality but the fact that I usually carry two phones, one dedicated for work and one dedicated for play, one dedicated for international calls and the other dedicated to local calls, I will have to choose something that can free me up in bringing two phones at one time, something that can do this easily and comfortably specially to my wallets content.
SAMSUNG DUOS CH@T222 aka E222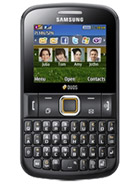 I have heard of the dual sim card phones before smartphones, but the fact that I do not have the use for them at that time, I wasn't serious about owning one. And also the fact that these phones are usually from brands I do not know and haven't heard of. In fact, other China brand phones offer 4 sim card capable smart phones at a price of a branded regular device.The only gamble is RELIABILITY.
Nokia offers dual sim phones as well, but pricier than samsung. Other dual sim phones need to be restarted when switching between the 2 sims. This is not practical.
My Duos Experience

Easy Sim Switch Between 2 Sim Cards





The Samsung DUOS E222 also known as Ch@t222 has these practical reasons. It has a key(see above) that you can press to choose between which network to use when making a call. The two sims, are active at all times to receive a call. When sim1 is making a call, or receiving a call, sim2 becomes inactive at the entire duration of call from sim1.

Voice Quality and Call Management

The voice call quality is most of the time clear and good. Sometimes it has crackly noises like that of a static interference, I assume that this is a network problem rather than the phone especially when inside a building.

You can distinguish which sim card is called when you check the logs by pressing the call button. The list will show the number who called and whether sim 1 or sim 2 is called by that particular number.

Messaging and Message Management

This phone does not have touch screen but it has a qwerty board for faster messaging. The keypad is similar to that of Nokia and Blackberry.

Like the calls log, the messages log shows the sender number and which of your two sims is sent a message.



Built In Shortcuts

Dedicated buttons for Facebook, Twitter, MSN Messenger and Yahoo Messenger are built in. You can configure which button will sit on your screen for easier and faster launch of your favourite application.

Internet and Connectivity

The unit has a mini USB port for charging and connecting into your computer, it has bluetooth connectivity, but do not have wi-fi. The internet capability is not as good as a proper smartphone. It can connect to the internet using GPRS and EDGE but can not on 3G network signals. This is I think one of the let down but as this phone is only intended to suite the three needs I am looking for a basic phone, the capability of having two networks in one device is a big plus. And beat this, it is only £52 unlocked to all networks, except those networks that use 3G signals only like 3mobile in this country. You can not also use this phone in Japan and South Korea as I've heard they only use 3G networks and not GSM bands.

Tip On Using Samsung Duos E222

To make sure you can recognize easily which sim network is on use while using the phone, use a network logo as your wallpaper. How?

For example your sim 1 is O2, download an O2 logo from the internet from your PC and edit it a bit and email it to yourself. Open your Samsung Duos E222 phone then access and download the image you've sent into your email. The image you've downloaded is on the folder My Files, then click Images, Open, then go to the O2 image, click View then Options, Set As, Wallpaper, Full Screen, Set, then select SIM 1(where O2 sim is located). Then do the same with the other network.




I recommend to use a light coloured network logo like the one below, so that the items in your screen will still be visible. I prefered white background for both my sim network screens.




Buy Samsung E222
See it in action
Specs Below
Also known as Samsung E2222, Samsung Chat 222
2G Network Only
GSM 850 / 900 / 1800 / 1900 - SIM 1
GSM 850 / 900 / 1800 / 1900 - SIM 2
BODY
Dimensions
109.5 x 61.3 x 11.9 mm
Size
220 x 176 pixels, 2.2 inches (~128 ppi pixel density)
Alert types
Vibration, MP3 ringtones
Phonebook
1000 entries, Photocall
Call records
30 dialed, 30 received, 30 missed calls
Bluetooth
Yes, v2.1 with A2DP
Primary
VGA, 640x480 pixels
Messaging
SMS, MMS, Email, IM
Radio
FM radio; FM recording
Java
Yes, MIDP 2.1Colors
Black
- Dual SIM (dual stand-by)
- SNS integration
- MP3/eAAC+ player
- MP4/H.264 player
- Organizer
- Voice memo
- Predictive text input
Std Battery
Li-Ion 1000 mAh
MISC